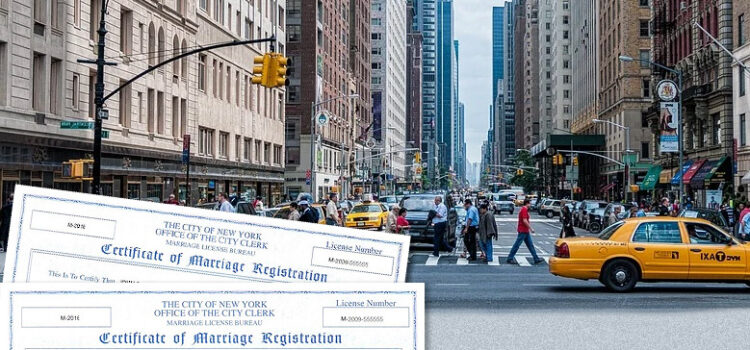 Marriage records are undoubtedly among the most valuable documents one can have. Marriage is an important event in life. So, an official record of this event would certainly have an emotional value attached to it. The information provided in a marriage certificate or license is also valuable when searching for family history. Details like the time and place of the marriage can be found in the document. 
You'll also find some deep information on both the spouses. A marriage certificate or license can also have information on parents and witnesses. It can be a real breakthrough for the person making the search to find a marriage record. Such documents usually help many individuals to solve a long-standing mystery. They also open up avenues to delve deeper into the family history. 
In the state of New York, locating marriage records can be quite challenging. The marriage records created in New York City are maintained separately from the ones created elsewhere in the state. Here are a few steps to follow if you want to find a New York State marriage record:
1. Estimate the time and place
It can be a bit straightforward to estimate dates of birth and death. However, estimating the date of a marriage can be somewhat trickier. There's no single way, by which, you can do this. Some well-informed guesses would be needed based on certain facts that are available. While there are records that explicitly mention the date of marriage, you may have one that doesn't. 
If the marriage has happened recently, you may be able to get a general year from a genealogy interview. You may know someone in your family who knew the married couple. Otherwise, to form a hypothesis, you'll need to use census records. This would involve tracking the individuals backwards from census to census. 
You might find the couple in the same household in one census, but in separate households in prior years. One good indicator can also be the birth of a child. You don't necessarily need to find the exact date of marriage. A well-informed time window would get you the right marriage record.
2. Determine if the record is likely to exist
For many of our ancestors, no official marriage record is available that has been produced by a civil government. This is an unfortunate reality. For various reasons, several towns and cities in the state of New York did not issue marriage certificates earlier. This didn't happen at all until the late 1800s. In some places, they began issuing marriage certificates only from the early 1900s. 
This points out to the fact that the practice of maintaining marriage records vary greatly by location. Tracking of vital records began in some towns and cities earlier than others. This is true for major cities like Buffalo and Albany. Once you get an idea of the general landscape, you can plan your next steps. 
3. The option of searching online records
Most of the New York State vital record certificates have not been digitized. In many cases, people searching for records need to contact a repository to order a copy. There are a few large online databases of New York marriage certificates. They also include original images of these documents. Although they're not comprehensive, you must certainly search these online databases first.
Steps to Find a New York State Marriage Record